The Top 5 Sushi Restaurants In McKinney, Texas
Posted by Nick Good on Tuesday, November 30, 2021 at 3:41 PM
By Nick Good / November 30, 2021
Comment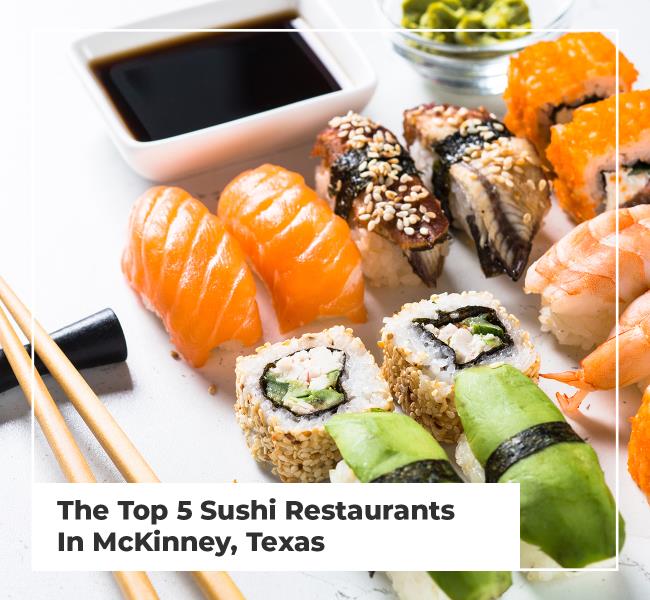 Fancy a spot of lunch? Or maybe even just a light bite to eat? McKinney is home to some of the finest sushi restaurants in Texas, growing with the times as oriental cuisine becomes more popular throughout the Western world. Sushi had always been a widely favorable foreign dish, but nowadays it's used in so many new and exciting combinations that you can try for yourself in your local restaurants.
Today, we'll be listing off exactly which of McKinney's sushi restaurants are its' finest.
With multiple decades' worth of experience under each of their professional chefs' belts, Zen Sushi & Grill attracts a high volume of customers all throughout McKinney who are interested in trying the authentic taste of Asia. Head Sushi Chef Kitamura has spent more than four decades working in Japanese and Hawaiian kitchens, whilst Head Kitchen Chef Candido has three decades' worth of experience in teppanyaki restaurants – A formidable combination under chef and owner Chien who previously owned a Japanese restaurant in Houston.
The restaurant prides itself on serving quality food, which is easy to believe after examining the chefs' backgrounds. It also prides itself on a 'quaint ambiance', creating a peaceful dining experience for yourself or whatever party you may have with you. Much like the chefs, the head waitress, Sara, also has multiple decades' worth of experience in her profession, now providing Zen Sushi & Grill with a hasty and efficient service.
The menu is highly promising when it comes to sushi and foreign cuisine in general, with Donburi, Noodles, Kiraku fried rice, Zen fried rice and more available here. The sushi menu is expansive, but to give basic examples, sushi combinations are served on California rolls with 8 (Ume), 10 (Take), or 12 (Matsu) pieces available per portion, ranging from $22 up to $30. For a slightly higher price, there's also Kiku and Sakura available as part of the Sashimi combinations.
Another authentic Japanese restaurant, Koji Sushi boasts about their 'mouth-watering dishes' to customers and aims to create a pleasant dining experience for all guests.
To get a complete experience with this restaurant, you'll likely have to come here multiple times as the lunch and dinner menus are vastly different. This is also a very helpful place to know of if you are on a budget, as for just $10, you can treat yourself to two types of sushi rolls, including California (Crab, avocado, and cucumber), Shrimp Tempura (with avocado and cucumber), Louisiana (Fried calamari, avocado, and cucumber), Eel Roll (with avocado), and more.
In contrast, the dinner menu offers even more unique sushi rolls, from the 'Love' roll (Cream cheese with fresh salmon and crab) to the 'Texas' roll (Spicy crab). You can grab one roll for just $10 with this menu, or if you're willing to go a little higher, you can take a seat at the sushi bar and indulge yourself in the likes of White Tuna Tadaki or Pepper Tuna Sashimi for less than $16 each, or a special Sushi Deluxe which brings together tuna, salmon, yellowtail, and other exotic fish for just under $24.
At this restaurant which specializes in Hibachi and Sushi, you can rest easy knowing that these talented chefs are far from strangers to cooking perfect meals for their customers.
Rather than small and standalone sushi plates, Shogun also serves sushi combinations. At lunchtime, there are four vastly different combinations available to choose from. For example, Sushi Combo A costs $16.95 and consists of one California roll with six pieces of sushi, whilst Sushi Combo D will bring you two of each of the following: Tuna Sushi, Salmon, Yellow Tail, White Fish, and Shrimp – Setting you back a whopping $26.95.
However, if a smaller plate is what you desire for a bite to eat, then Shogun has you covered there as well. For less than $8 each, you can choose between Tuna, White Fish, Salmon, Shrimp, Squid, Octopus, and other exotic sushi dishes.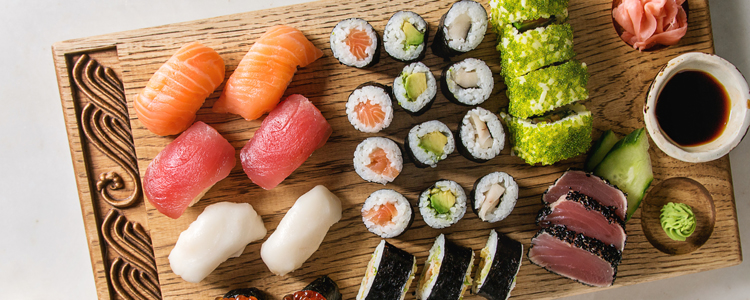 Don't be immediately discouraged by the title of this restaurant – Whilst it is true that this spot very much specializes in ramen, that doesn't mean they don't serve excellent sushi as part of their menu as well.
We've put this spot on our list because of one particular dish that we've not seen on any other menus: The Tower. For $7.25, you can gorge on a dish of sushi rice, avocado, and snow crab topped with spicy mayo and eel sauce. To top it off, this dish is served in a vertical heap, with the snow crab stacked and the rice sprinkled on top, forming a 'tower' and earning the dish its' title.
Other sushi dishes at Kuma Ramen include Unagi Don (Sushi rice with grilled eel and other toppings), Tuna Albacore, and more, though the full sushi menu is versatile and can change daily, meaning that an exhaustive list cannot be stated, nor is one given on the restaurant's website.
Receiving the most praise out of all our picks on this list is Tai Sushi House, a restaurant which customers have nothing but positive things to say about. For six years, this sushi bar has provided McKinney with the most delicious and exotic sushi dishes out there.
Tai Sushi House prides itself on something rather important that many other restaurants forget to state: Hygiene and cleanliness. The dining room is always kept clean and welcoming to customers, and the staff is very attentive to any issues there may be. The restaurant is also locally owned and offers a bring your own bottle scheme, making it highly sustainable and eco-friendly.
This sushi bar serves an artistically laid out Tuna Tataki, a South Beach sushi roll (with Kani, Ebi, and Avo), a Canoe sushi roll (mixed crab, spicy tuna, shrimp tempura, eel, and avocado), and even a 'Beginner' dish consisting of solely a California roll and a shrimp tempura roll for those looking to try sushi for the first time but have concerns – And only for $14 as well.
The cold sandwich menu, which is why we recommend this spot, is even larger, with options such as cheeseburgers, patties, roast beef, clam strips, and veggie burgers all available with either French fries or the side of the day.
Overall…
Sushi is, without a doubt, one of the most delicious tastes out there, but also one of the most acquired and expansive. It's a dish that has to be prepared in the right way and with the right sides for some to properly enjoy it, and we hope that with our list you know exactly what sushi dishes you want to try and from which restaurants you can order them.
The Good Home Team represents the region's finest properties with exceptional skill using the most innovative technologies currently available. The Good Home Team offers ultimate privacy and security, speed, and efficiency. Their years of full-time experience have given them a clear understanding of the mindset of home buyers and sellers and a thorough understanding of the regional marketplace.