Red Flags When Buying A Condo: What To Watch Out For
Posted by Nick Good on Thursday, May 12, 2022 at 2:36 PM
By Nick Good / May 12, 2022
Comment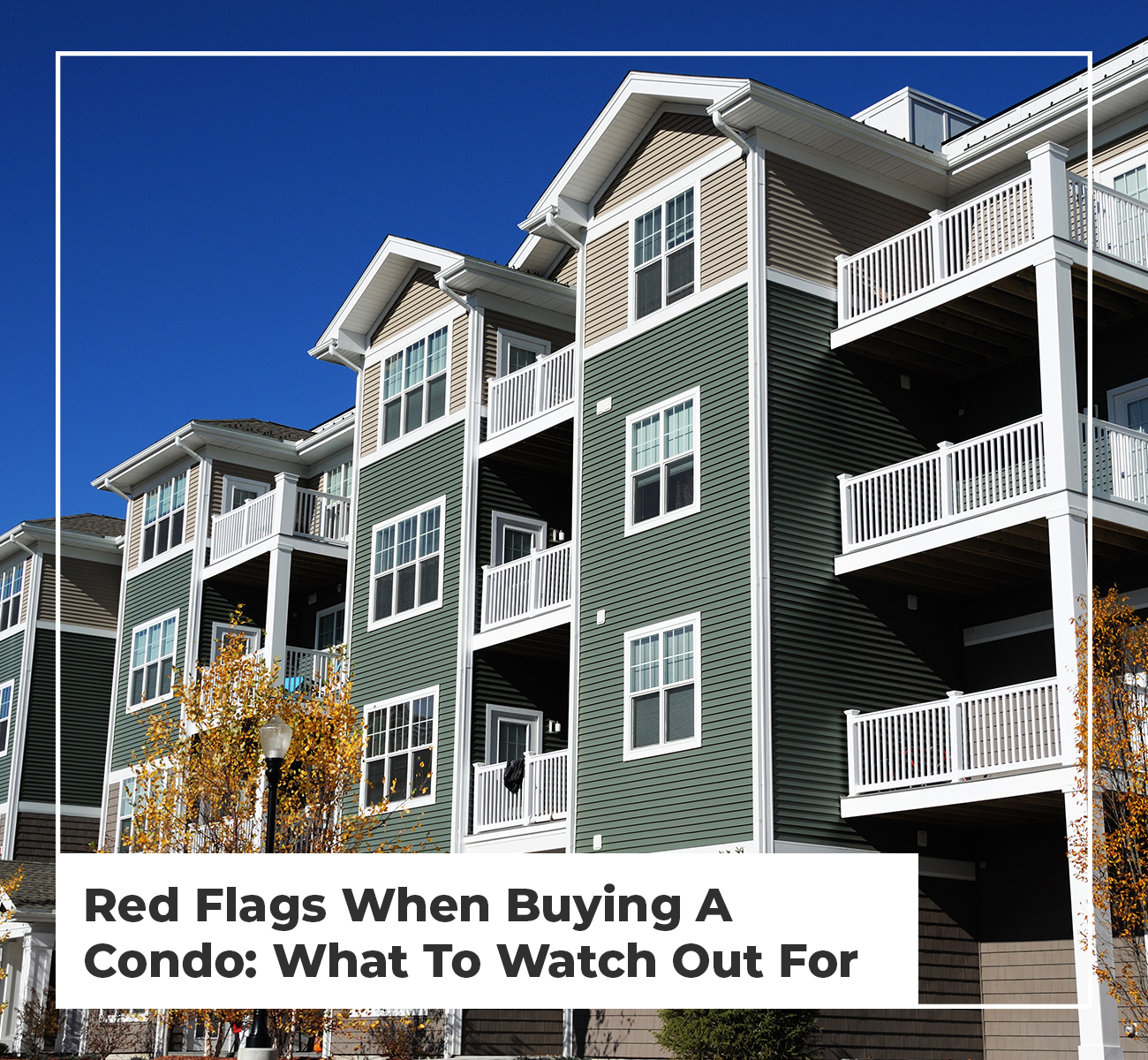 Whether you are actively looking, or just beginning to think about purchasing a condo, it is important to be aware of some potential red flags that could indicate trouble down the road. Of course, every situation is unique, and you will want to consult with a real estate professional or attorney before making any final decisions. However, here are some of the red flags to watch out for when considering the purchase of a McKinney condo:
Exceptionally High Monthly Condo Fees
One of the first things you should look at when considering the purchase of a condo is the monthly condo fee. This fee covers the costs of maintaining common areas, as well as any amenities that the complex may offer (such as a fitness center or swimming pool). While it is not unusual for condo fees to be a bit higher than those for comparable apartments, be wary of complexes with monthly condo fees that are significantly higher than others in the area. This could be a sign that the previous owners were not paying their fair share, and that you may be stuck footing the bill down the road.
Lack of Reserves in the Condo Association's Budget
Another important thing to look at when considering the purchase of a condo is the financial stability of the condo association. One way to gauge this is by looking at the association's budget to see if there are reserves set aside for future repairs and improvements. If the answer is no, or if the reserves are insufficient, it could be a sign that the association is not in good financial health and that you may be hit with a special assessment down the road to cover these costs.
Poorly Maintained Common Areas
You can tell a lot about the overall condominium community by observing the common areas and amenities. If they are well-maintained, it is a good sign that the association is on top of things, and using your HOA money appropriately. However, if the common areas are in great disrepair, overrun with trash, or generally not well-kept, it could be a sign that the association is not doing a good job of managing the property.
Poorly maintained common areas can also be frustrating as a condo owner if you had hopes of taking advantage of some of your community's amenities. If, for example, you were under the impression you can spend time enjoying the condo's pool, but it is instead dirty or constantly closed, it can be a real letdown.
Inadequate Insurance Coverage
All condominium associations are required to carry insurance on the property which includes both the common areas and individual units. However, some associations carry only the minimum amount of coverage required by law, which may not be enough to adequately protect owners in the event of a major disaster. While it is still a requirement to have a private insurance policy on your condominium unit, it is important to make sure that the association's policy will cover any potential gaps especially if you live near something that could be a hazard such as a golf course or the water.

Unusual Bylaws or Governing Documents
When you purchase a condo, you are also agreeing to abide by the complex's bylaws and governing documents. These documents outline the rules and regulations that you must follow as a resident. Before making an offer on a condo, be sure to review these documents carefully, and flag any clauses that you find to be unusual or excessively restrictive. For example, some condo associations have rules about renting out units, which could make it difficult to do so in the future if you need or want to.
There are also a number of bylaws that are common to condo communities which can make it difficult if you plan on making any changes to your property. Depending on the rules, you may need to seek approval for alterations such as changing outdoor light fixtures, painting your front door, or even installing a satellite dish. While these types of things may not seem like a big deal, they can be a hassle to deal with if you are not expecting them.
Special Assessments
Another potential red flag when buying a condo is the presence of special assessments. Special assessments are fees that are levied by the condo association on all unit owners in order to pay for a one-time expense. These expenses can be anything from major repairs or renovations to the complex, to legal fees incurred by the association. If you are considering the purchase of a condo that has recently been hit with a special assessment, be sure to factor this into your budget, as you will be responsible for paying your share.
A History of Lawsuits
Be sure to do your research on the complex itself, as well as the current and previous owners. A simple Google search can reveal a lot, including any lawsuits that have been filed against the association or developers. While every condo complex is going to have the occasional dispute, it is important to look at the frequency and nature of the lawsuits. If there have been a number of lawsuits filed against the association in recent years, it could be a sign that there are serious problems with the complex that have not been adequately addressed.
Buildings are Poorly Constructed and Designed
When purchasing a condo, you are also buying into the quality of the construction. Unfortunately, some developers cut corners to save money, which can result in subpar construction. This can lead to all sorts of problems down the road, from water leaks to mold growth. If you notice any signs of poor construction (cracks in the walls, for example), be sure to have the unit inspected by a professional before making an offer.
As with purchasing any other style of home, before buying a property it is recommended to have a professional home inspection completed. It is also extremely important that you know exactly what part of the property is your responsibility for upkeep and what portion is the responsibility of the condominium associations. Depending on the style of homes in the community, there are different responsibilities. For example, in some condominium communities, the condo association is responsible for the maintenance and repair of roofing, however, if not done properly this could result in damage to areas that the owner is then responsible for.

Not Enough/Poor Parking
This may not seem like a big deal at first, however, if you live in an area where parking is at a premium, not having designated parking, or enough parking can be a real problem. No one wants to struggle with finding adequate parking each and every day or not have a place for visitors and guests to park.
It is also worth mentioning if there is not enough parking space available within the condo community, it is wise to make sure there are safe parking alternatives in the area. Whether it be street parking, a private parking garage, or a public parking lot, you'll want to have a game plan for where you will be able to park before making your final decision on purchasing the condo.
Inadequate Insulation/Soundproofing
Since many condominium units are built with common walls, it is important to make sure that the units are properly insulated in order to minimize noise pollution. If you are considering purchasing a condo unit, be sure to ask about the type of insulation used in the construction of the complex. You may also want to consider touring the complex at different times of the day to get a sense of how much noise travels between units.
If you are a light sleeper or simply value your peace and quiet, you may want to think twice about purchasing a condo unit that is not well insulated as there will likely be a lot more noise to deal with.

No On-site Management
While many condo complexes have on-site management, there are some that do not. This may not lead to any future problems, however, in the event that issues do arise, it can be more difficult to get issues resolved in a timely manner. Additionally, if there is no on-site management, it is important to make sure that the condo association has a good property management company in place to take care of any necessary repairs or maintenance.
Condos are an excellent real estate option for many different buyers. Whether you are looking for an affordable and amenity-rich first home or a place to settle into retirement and enjoy less responsibility, condos can have a lot to offer. However, as with any purchase, it is important to be aware of potential red flags that could indicate problems down the road. By keeping an eye out for these potential issues, you can help ensure that you find the perfect condo unit for your needs.
The Good Home Team represents the region's finest properties with exceptional skill using the most innovative technologies currently available. The Good Home Team offers ultimate privacy and security, speed, and efficiency. Their years of full-time experience have given them a clear understanding of the mindset of home buyers and sellers and a thorough understanding of the regional marketplace.