21 Best Things To Do in Historic Downtown McKinney, TX
Posted by Nick Good on Friday, September 3, 2021 at 5:28 PM
By Nick Good / September 3, 2021
Comment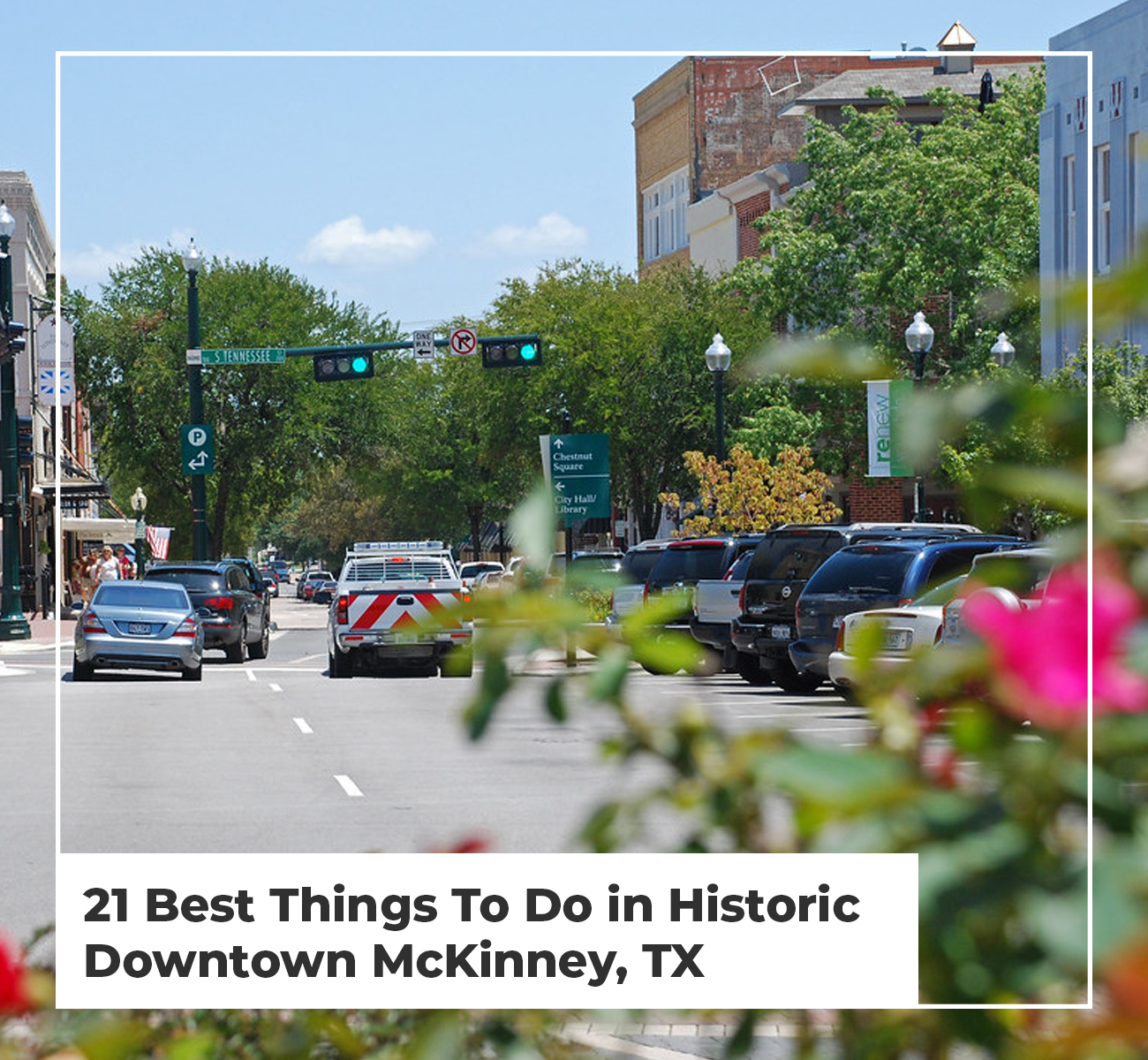 A thriving historic downtown is one of McKinney's best assets. More than a dozen restaurants and 120 unique shops are located in the commercial district, which is home to a slew of treasures such as art galleries, furniture stores, antique shops, gift shops, and apparel boutiques.
The best way to experience Historic Downtown McKinney is by foot. You can explore the area on your terms without being confined by a bus schedule or tour group. We've compiled a list of 21 activities in the historic downtown district.
1. Have Fun on Main Street
Main Street has a pleasant, small-town feel to it. Scattered throughout the district, one can find a number of historic buildings, some dating back as far as 165 years. There are festive activities always going on thanks to the many volunteers who work together to ensure residents and visitors have plenty to do. Antique shops, galleries, and boutiques there are one-of-a-kind and independently owned.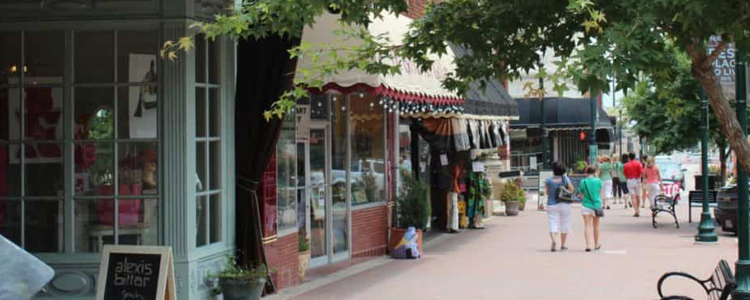 2. Take a Stroll at the Chestnut Square Historic Park
Chestnut Square transports you to the city's early days. When you visit the ten conserved buildings that dates from 1854 to 1930, you'll be able to observe how the town's communities worked and played. A chapel, a schoolhouse, a boarding house, a general store, and a variety of residences can be found there. Volunteers bring life to this park by wearing historical costumes and showcase 19th-century skills that people used to need to do.
3. Grab a Book to Read at Roy & Helen Hall Memorial Library
This tiny library, located directly next to McKinney Square, is set on a street corner and is quite easy to miss unless you are looking for it. Choose an interesting and fascinating book, and read it in peace in a quiet environment. Let your imagination go wild, and go on magical adventures in your mind! Also, make sure that you don't miss the artworks for sale by the artists on the wall along the stairwell.
4. Adventure Time at the Heard Natural Science Museum & Wildlife Sanctuary
Here, they use a variety of indoor and outdoor exhibits to bring you into contact with the natural environment. You can look through and touch natural history collections such as mammal skins and seashells. Outside, people can visit gardens that have been created to protect endangered indigenous ecosystems, so that future generations can experience Texas at its most natural.
You can walk through beautiful butterfly gardens, native plant exhibitions, and thoughtfully created bird gardens on the walking routes. There's even a snake display that allows you to put face to face with non-venomous snakes and teaches you how to treat bites.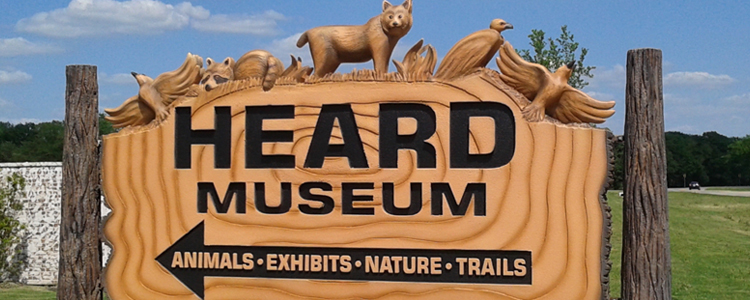 5. Quick Exercise at the Towne Lake Recreation Area
If you need to get some exercise, this 108-acre neighborhood park is ideal. It wraps itself around the edge of a 22-acre lake with a pier and paddle boats. Throughout the year, you'll see people fishing or simply enjoying the sun on the pier.
Two picnic shelters with electrical outlets are also available which is ideal for leisurely summer days with the family. You can even play on the volleyball courts, try your hand at horseshoe pitching, or take a leisurely stroll along the 1.2-mile hiking track.
6. Lunch Break at Square Burger
You've undoubtedly worked up an appetite after a long day. Square Burger is, thankfully, just around the corner! This downtown McKinney restaurant has gourmet quality cuisine and excellent service. The burgers are so large, people order only one burger, then fries or onion strings for each person. We've also heard that their Bleu Cheese Burger is a favorite for a lot of customers.
7. A Picnic at The Trails of Erwin Park
Erwin Park's spacious grounds will most definitely tempt you to relax, and make you want to have a good time with your family or friends. There are three picnic pavilions, one of which is powered with electricity, as well as some designated campsites and playgrounds. From here, there are even numerous mountain trails excellent for hiking and riding, as well as bike repair facilities for simple repairs.
8. International Creations at Fair and Square
You can buy with confidence at Fair and Square since you know that your purchases have a significant impact. All of their fantastic items are handcrafted from all around the world! Fair and Square collaborate with organizations that use creativity to help people in underdeveloped nations overcome poverty.
Clothes, jewelry, toys, and anything else you can think of are there, and all are handcrafted by craftsmen from over 40 nations! The store's goal is admirable, and its merchandise is original and unique.

9. Décor & Gift Shopping at Birds and Words
Around McKinney square, there are several shops for different kinds of décor and furniture, though Birds and Words is one of the best and most recommended. Birds and Words' creations are original and stunning with reasonable pricing.
They're also quite famous for their beautiful hand-painted globes. Birds and Words is the perfect place to look for some fun new pieces for your home, and also a good place for gift shopping.
10. Vintage Accessories at Barrons Estate Jewelers
A quick visit to Barrons Estate Jewelers will satisfy your need for the better and luxurious things in life. This is the best spot to look for that vintage ring you've always wanted or maybe the traditional rarity that captured your eye since they offer an excellent variety of antique wedding pieces, Asian rarities, clocks, vintage guitars, and rock memorabilia, as well as vintage purses.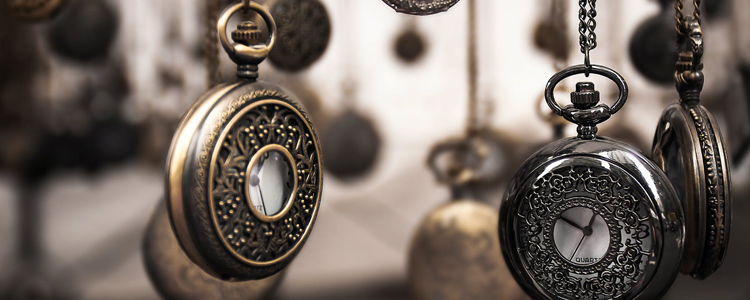 11. Go Back in Time at Miss Henny Penny's Groovy Coop
Take a look at Miss Henny Penny's Groovy Coop if you're feeling nostalgic. This unusual boutique embraces uniqueness and artistry through eclectic things from now and then. As you explore this throwback to the past, you'll come across retro albums, clothing, video games, and more. There are also novelty items such as quirky patterned socks. This is a terrific location to buy vintage items or good joke presents for you, your friends, or your family.
12. Snack Stop at Mom and PopCorn
If all that shopping ends up making you hungry, stop by this lovely and cute popcorn and candy shop because you are in for a treat! Mom & PopCorn carries a wide variety of gourmet snacks as well as any brand of candy you can think of.
13. Cheap Thrills at Third Monday Trade Days
Going back to the 1870s, this is the region's oldest and biggest flea market. It's the perfect location to buy interesting souvenirs, handcrafted items, and delicious food. The Third Monday Trade Days market is located in the historic Buckner Community.
It is a terrific spot for the whole family to visit. This large market has over 450 sellers and is the place to go whether you're searching for souvenirs and gifts, or just want to see new things.
14. Market Shopping at Local Yocal
McKinney has some excellent options for supermarket shopping. Local Yocal is a "Farm to Market" butcher store that only sells organic products sourced locally, such as poultry, eggs, and meat. Come to Local Yocal to stock your kitchen with natural products like gourmet cheese grass-fed meat if you're having a vacation in McKinney.
15. Personalized Coffee at Layered Café
Layered Café beverages are amazing. All their drinks, including their delicious Nutella Latte, are heavenly works of art. They also have a machine that creates custom graphics for your coffee. We're not sure how this works, but you can download their app here, then send in a selfie or whatever you want to see in your coffee!
16. Some Gourmet Donuts at The Donut Kitchen
Sample the many varieties of donuts available at this specialty café for a sweet treat. If you want to try some of their greatest and most delicious flavors, arrive early because they tend to sell out quickly. Some of their desserts are strawberry lemon iced cake, bacon maple, key lime pie, and blueberry with cream cheese filling!
This quaint café in the old downtown district serves European-style coffee and pastries. This exquisite coffee business, which is family-owned by the way, provides a terrific experience unlike any other. Their outstanding service and friendly employees compliment the already amazing coffee which makes it a truly sweet treat!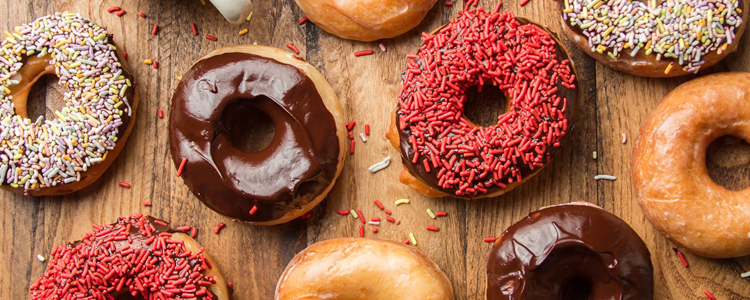 17. Treat Yourself at Emporium Pies
Save some space for pie at Emporium Pies because this charming pie business, which has three locations in the Dallas region, will knock your socks off. You've gotta go there extra early to avoid the super long lines.
They offer Apple pie, pecan pie, chess pie, chiffon pie, cream pie, and many more. Their most famous ones are pumpkin pie and butterscotch pie, but you just can't go wrong with any of the pie options since they're all delicious.
18. Enjoy Delicious Food at Hank's Texas Grill
This is a wonderful location to eat some good food even if you don't want something too fancy. It's also quite famous for its great music that is performed live. Along with your meal, take in the amazing music and the restaurant's traditional Texan environment. Make sure to sample the brisket nachos, which come with a lot of them.
19. Delish Homemade Cajun Dish at Bayou Jack's Cajun Grill
Check out this unique and colorful eatery if you're in the mood for some excellent Cajun cuisine. Fresh seafood is coupled with your choice of beverage such as wine or beer, making it a fun and enjoyable spot to spend time with your friends and family. You can enjoy plenty of crawfish, gumbo, catfish, and oysters since they've got them all.
20. Local Beers at Franconia Brewing Company
Since 2008, German brewmaster Dennis Wehrman started Franconia and began manufacturing beer in McKinney. He came from a long line of brewers with more than 200 years of wisdom from his family.
You'll understand more about how McKinney's favorite beers are made once you've gotten a tour of the brewhouse. The instructors there are famous for being educated and amusing plus you get to drink Franconia's beers.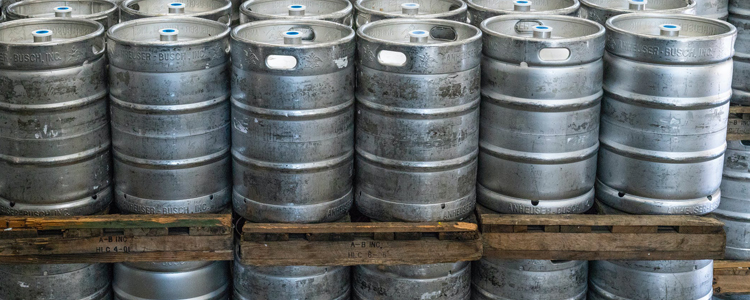 21. Beautiful Scenery at the Mitas Hill Vineyard & Winery
This scenery is located at the north of McKinney, with several hilltop vineyards. Mitas Hill is only a few minutes outside of the city. On heavily laden vines surrounded by woodland, they grow many different kinds of vines.
Mitas Hills is able to develop wines that are both fresh and familiar thanks to their distinctive grape choices. Just book a table at their restaurant to take part in an enjoyable tour. If you're there in August, you can join their annual harvest festival.
Such A Wonderful Time!
Remember that these are just 21 of the best things you can do in downtown McKinney! There's more fun stuff to do there, and there's plenty of places to go exploring in, so don't stop there. Enjoy your time to the fullest because it's a great place to go on vacation.
So what are you gonna do? Grab some popcorn or a huge bleu cheeseburger? Maybe go hiking or play some volleyball in the Towne Lake Recreation Area, or just have a lovely and historical stroll in Chestnut Square Historic Park? Go beyond!
The Good Home Team represents the region's finest properties with exceptional skill using the most innovative technologies currently available. The Good Home Team offers ultimate privacy and security, speed, and efficiency. Their years of full-time experience have given them a clear understanding of the mindset of home buyers and sellers and a thorough understanding of the regional marketplace.
Homes For Sale in McKinney, Texas

Information is deemed reliable, but is not guaranteed accurate by the MLS or NTREIS. The information being provided is for the consumer's personal, non-commercial use, and may not be reproduced, redistributed or used for any purpose other than to identify prospective properties consumers may be interested in purchasing. Real estate listings held by brokerage firms other than The Good Home Team - eXp Realty are marked with the NTREIS IDX logo and information about them includes the name of the listing brokerage.

NTREIS data last updated September 21, 2023.